SELLER'S ARTICLES – FOR THE SMART CONSUMER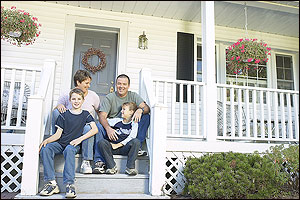 The very last thing a homeowner wants to hear is that his or her home is considered to be a hard-to-sell home. Many different factors influence buyers and, particularly in a buyer's market, a home that does not offer what most buyers are seeking could be considered to be hard to sell.
If you are wondering whether your home might be considered hard to sell, consider the requirements that most people have in mind when shopping for a new home:
Kitchen Size and Condition
Most buyers want to avoid the expense of updating or enlarging a home's kitchen. It is well known that kitchen renovations are the most costly type of renovation for homeowners. Therefore, homes with old kitchens that lack updated plumbing and fixtures are often hard to sell.
Lot Size
Depending on your home's location, a small (or large) lot size could be a deterrent to potential buyers. For example, if you have a large home with a tiny lot in a neighborhood that is known for being family-friendly, your home may be the last on the block to sell if all the other homes for sale are in similar condition with similar features. The reverse is true for small homes with large lots. If you are selling a small home, the interested buyers may be people who are trying to downsize and avoid ongoing maintenance. A large lot requires a significant investment of time and money in maintenance. Therefore, your beautiful, large lot could actually be viewed as a disadvantage.
Overall Condition
If your home needs many updates and a lot of TLC and has several large projects that are obviously waiting to be completed, there is a very good chance that your home will be hard to sell. A home with a leaking roof, rusted plumbing and a fuse box will be valued less than a similar home where these updates have already been completed. In a neighborhood where several homes are for sale and yours is the only one in this shabby condition, your home will not sell as quickly as – and will sell for less than – the other homes on the market.
Odd Shape, Small Rooms
Older homes offer a certain charm and elegance, but they often also have oddly shaped rooms and a lot of wasted space. Today's buyers are looking for convenience and open floor plans. Therefore, regardless of the home's condition, if your home is older and fits this description, most realtors may consider it to be hard to sell.
Having a Hard Time Selling Your Home?
This is simply an overview of some of the reasons that a home might be considered hard to sell. Do not immediately assume that a realtor is correct if he or she tells you that your home will not sell. Every buyer is looking for something different, and there is bound to be that at least one buyer who thinks your home is a perfect match for his or her needs. However, when that buyer does not surface after a few months and you need to sell you home, there are some things that you can do to get more buyers interested and to attract more realtors who can show the home to their clients.
Reduce the Price
A small price reduction may not capture buyers' attention immediately, but it definitely will catch the eye of realtors. People like bargains, and just as in retail settings, even a tiny discount will make them think that they are getting a good deal. Most major brokers will advertise a home as having a "reduced price" when a seller opts to lower the asking price. Sure, you will need to disclose the original asking price when asked, but sometimes the question is never asked. An overpriced home will be hard to sell! If you have listed your home at a price that is considerably higher than that at which comparable homes in your neighborhood have sold, you may need to lower the price to be competitive. Deciding to lower the price may be disheartening, but accepting a lower sale price is less expensive than continuing to maintain the home for an extra year or two in the hopes of getting your original asking price.
Make Some Updates
If your price is well within the standard market range for comparable homes, you might want to consider the benefits of making some much-needed updates. First focus on non-cosmetic renovations. While you may be tempted to pay a landscaping company to beautify your lawn and gardens, it would be much more cost-effective to install new flooring or update the wiring. If your home lacks a modern kitchen and you can afford to put in a top-end gourmet kitchen, then the kitchen is the first thing to consider. Kitchen renovations are large projects, but a home with a brand new kitchen will almost definitely sell for much more than a home with an old kitchen. Also consider your bathrooms. Bathroom updates can be relatively inexpensive if the fixtures remain in place. A new floor and wall tiles are relatively inexpensive in a bathroom, when compared with larger rooms. Opt for the best possible materials and craftsmanship. Remember that you are making the updates to attract a buyer. Therefore, you must remove your own personal taste from consideration.
Offer Buyer Incentives
Many hard-to-sell homes become more attractive to buyers simply because the seller is willing to pay all closing costs, offer down-payment assistance or offer seller-financing. Consider the options carefully before determining whether any of these ideas might work for your situation. Seller-financing is excellent for good buyers with bad credit, because although they may be able to afford the mortgage payments easily, they cannot obtain the necessary financing from traditional lending sources. When you are selling a home but don't need the sale proceeds immediately, you might want to consider offering the buyer a balloon mortgage for a few years. Or you might want to offer continuous financing, depending on the buyer's qualifications and your comfort level in risking default.
Not all homes are equal, and some have better sale potential than others. When your home is one of those that lack sale potential, you must consider your options for making the home more attractive. Although not impossible, it can be expensive to make every needed update or repair, which is why you need to learn to prioritize.
Before making any of the changes suggested above, ask for your realtor's opinion about how you can make your home more salable. Very few homes are un-salable. You simply need guidance for selling your hard-to-sell home.