BUYER'S ARTICLES – FOR THE SMART CONSUMER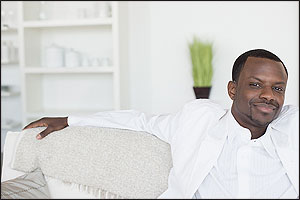 The National Association of Realtors indicated recently that almost one third of first-time homebuyers are single. This can be reassuring if you are discouraged about buying a home as a result of your marital status. Many single people believe that their chances of buying a home are limited due to the competition that they face from couples with two incomes and higher earning capacities. Occasionally this is true, but usually this simply is not the case.
Single home buyers tend to have fewer financial limitations and less debt than do couples – especially when compared to couples who have children and need to pay for their college educations and other expenses.
Lenders do not discriminate based on marital status, and most loan officers look only at the numbers when doing a mortgage pre-approval. The combined income of a couple may be higher than your individual income, but your debt-to-income ratio is probably lower. Rest assured that you will most likely qualify for a mortgage just as easily as a two-income couple.
Many single buyers worry about the daunting 20-25% down payment that most lenders "require". However, what you may not realize is that lenders often make allowances for lower down payments, offer PMI (private mortgage insurance), or even offer first-time buyer programs with zero down. Obviously you would like to avoid the increased cost of PMI, so it is in your best interest to speak with several lenders in order to determine their willingness to work with you and to give you options for working around the down payment requirement.
Begin your home-buying adventure by going through the pre-approval process. When you find a property that you want to purchase, your offer carries significantly more weight if you are armed with guaranteed financing than if your offer is contingent upon financing being granted by a lender. Keep in mind that pre-qualification and pre-approval are two different processes. Pre-qualification is the process through which a lender determines how much you can afford based on your income and monthly expenses. In contrast, pre-approval involves the lender pulling your credit report and determining the institution's willingness to extend a loan to you.
Once you have secured financing through pre-approval and researched first-time buyer programs and other lender incentives, it's time to start shopping!
Here are some hot tips that single buyers just like you have found to be effective when they are looking for a home:
Never Shop Alone
When you are a single homebuyer, there is a tendency to make emotional purchases that you may live to regret. Therefore, it is always best to take a friend or family member with you to view homes. A second set of eyes and ears always helps, and if you are working with a good agent, he or she will probably suggest this to you.
Consider Resale
When shopping for a home, have a clear idea of how long you expect to live in it. If you intend to keep the home for many years, then you do not need to be very concerned with the short-term resale values. However, if you intend to live in the home just long enough to finish graduate school, you should definitely be looking for a home that will produce at least a small profit at the time of resale. One way to almost guarantee a profit at resale is to purchase a home in an area with a fantastic school district and child-friendly neighbors. This will make it easier to well your home in the future. Also, if you are willing and able to make upgrades and home improvements, buying a fixer-upper home and having the work completed while you own it could help you to generate even more of a profit when reselling.
Buy for the Future
Many single homeowners purchase homes with the intention of living there alone. Sometimes, however, circumstances change and someone else comes into the picture. If you do not plan to have children, but expect to marry eventually, a one- or two-bedroom home may be enough for you. If your intention is to marry and have children while living in the home, then buy a home that is large enough to meet your growing needs for space.
Buy Large for the Resale Value
In many areas, single people often buy a relatively large home with a significant resale value. These homeowners often share expenses with one or more roommates or family members. In some cases, the single homeowner buys a home jointly with another family member in order to be eligible for a higher loan amount. However, this situation can become tenuous when one party wants to divest of the home, so consider this option very carefully before making deciding to borrow with a family member.
Consider Alternative Housing
Although the most common type of housing is the single-family home, a single buyer may do well to avoid the associated maintenance and general repair costs by purchasing a condominium or townhouse that is part of a complex where a community association handles these expenses on behalf of the owners. There will be an added cost for these services, but there will be less taxes, more security and less overhead. These alternative living arrangements can save a single buyer a lot of money, but keep in mind that, when you are ready to resell, condominiums and townhouses do not attract buyers as well as single-family homes do.
Conclusion
Being single does not make you ineligible to purchase a home! On the contrary, if you have a steady income and good credit, most lenders will view you as an ideal borrower. Being single does make it more difficult to afford the required 20-25% down payment, but many programs are designed to help you offset that cost.
Consider your future when buying a home as a single owner, because what happens over the next few years might change your perspective or your need for space. It is sometimes better for single buyers to focus on resale and future needs rather than their immediate situation, but this does not apply to every single buyer. Some buyers have the intention of staying single and living alone, and for them it is best to buy exactly what they want in a home the first time.
Keep in mind your goals for the future. Use your new home to leverage your current income and give yourself a solid financial basis upon which to build your future.