BUYER'S ARTICLES – FOR THE SMART CONSUMER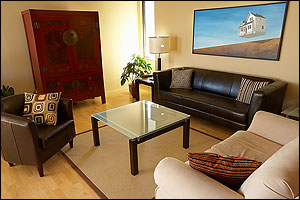 Which Is a Better Option?
Determining whether a brand new home or a pre-owned home is right for you is a very personal decision. Only you can answer the question, and there are many factors to consider. Certainly, a brand-new home will be pristine and most likely it will be built using the most energy-efficient materials and building techniques.
However, older homes are charming and come with a history. Pre-owned homes are usually located in established neighborhoods while new homes may be located in unfinished complexes. The neighborhood should not be the only consideration, however, because there are exceptions and sometimes new homes are built in pre-existing neighborhoods.
If you are considering purchasing or building a new home in a new neighborhood, speak with other residents who have purchased homes there. This will give you insight about the neighbors, the neighborhood, and the quality of work performed by specific builders. You may need to visit several new housing developments before you find one that seems to be a good fit for your lifestyle.
If you are able to speak with residents in the development(s) you are considering, be certain to ask about any housing association, recreational or other fees that buyers must pay in order to support the neighborhood.
Your Realtor wants to help you make the best decisions regarding the purchase of your new home. Here are some considerations that you may want to consider in your decision-making process:
Price
New homes are almost always more expensive than pre-owned homes. A general rule of thumb is that the higher the price, the better the materials and the more features the home has. If you are considering building a home located in a housing development, you may end up disappointed when you realize that while the model home displays beautiful crown molding and plush carpeting, your home actually comes with bare walls and less-expensive carpeting.
If you are purchasing a home that is being built to your specifications, your realtor can help you determine which features should be included by the seller and which you can add later at a significantly lower cost.
New home purchases are tricky for first-time buyers when they do not realize ahead of time that what you see is not always what you get. Your realtor's experience working with buyers who purchase or build new homes can provide insight about the features that will maximize your investment. Your realtor will also be prepared to provide suggestions for cost-effective alternatives, such as purchasing your appliances from someone other than the builder.
The price of a new home, whether pre-built or buyer-contracted, usually does not include landscaping, concrete work or driveways. A deck or porch may be included in the purchase price, but this is not always the case.
Ask the builder or seller for a complete list of what is included in the price of the home. If you are uncertain about any item or feature, ask plenty of questions. When you are prepared to talk to the seller, let your realtor know so that he or she can help ensure that you are asking all of the right questions!
Materials
The types of materials used in building a new home directly correspond to the price of the home. You get what you pay for. When your parents used that adage, they may not have been talking about homes, but it definitely applies to new home construction!
When you are determined to purchase a home constructed of high-quality materials, it may seem that a new home is the only answer. However, remember that pre-owned homes have stood the test of time for many years. Therefore, the materials used in the construction of those homes must have been of high quality.
If your goal is to purchase a home that uses the most energy-efficient and modern materials, a new home is probably your best option. However, remember too that the newest and most popular building materials do not come with a "test-of-time" guarantee. Weigh your options carefully.
Sometimes a buyer can find a pre-owned home that is only a few years old and that has been maintained in excellent condition. These homes offer new materials and building techniques and may cost much less than what you would normally spend on a brand-new home.
Material Safety
Although it may seem that the topic of material safety should be included under the previous heading, a discussion about safe building materials warrants its own section. Building codes have become more home-occupant-friendly over the past several decades. When you purchase a new home, you can rest assured that if a building material is considered to be unsafe it will not be used in the construction of your home.
This is not necessarily true with reference to pre-owned homes. Really it depends on when a home was built and what the building codes were at that time in that area. Also, with pre-owned homes you will need to consider any renovations, additions or upgrades that were made to the home and when they were made.
Many building materials used in the past present possible hazards to you and to your family. Some of these materials may be easy to spot, but others are almost invisible to the average buyer.
The most common dangerous material is lead-based paint. During the 1990s, federal regulations began to require sellers to disclose the use of lead-based paint within their home and on the home's exterior. There is also a requirement that the buyer be given ten days from the time of sale in order to have the home tested for the presence of lead.
A newly built home usually will not present any hazards to your family. Pre-owned homes may or may not, depending on the home's age, location and condition.
Realtors have been thoroughly educated about the federal regulations on lead-based paint and other hazardous materials. Your realtor will be more than happy to provide you with the information you need to make an educated decision about the homes you are considering.
Years of experience have allowed realtors to learn the advantages and disadvantages of both new and pre-owned homes. Your realtor can assist you in the process of determining which type is best for you, either before or during your actual home search.
Regardless of which type of home you select, your realtor will present you with a variety of homes from which you can choose. Remember that the decision of whether to buy a new or pre-owned home is a personal choice, and what is right for someone else may not work for you.